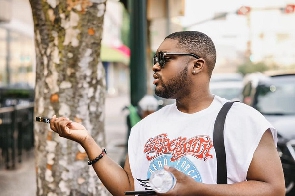 Bradley may not actually or deliberately know it, but he's a sensation and a delight for many people, and many things too. In fact, it's much like he understands these streets of entertainment much better than many, but he doesn't even stress so much about it.
Take this here for example he makes the most random choice for a photo session, possesses and waits for the click of the shutter of the cameras on him, and boom! He's made a record photo - in front of a recording studio in the heart of Silver Spring after attending the Barbie Global Listening Party on 18th July.

As the Official Ken Doll of Ghana and representing: Barbie The movie in theaters on the 21st of July as a marketer and celebrity. The singer promoted and shared marketing strategies he used to promote the No.1 movie in the world on his social platforms and using his likeness to reach the diaspora.

The pop singer spent almost $20,000 on the Global Promo for the Barbie Movie (Ghana & United States) starting 1st July - 21st.

This other one too blends in quite perfectly; what has made him such a delightful writer.

Names of legends in the music trade like Céline Dion, Backstreet Boys, Beyoncé, Miley Cyrus, and Aerosmith, quickly fill his head as he talks about that big question.
A stickler for ballads, these great hit-makers have continued to influence, inform and shape his style for writing, and what is going to make up his pending album.

"These are ballads I love and I believe are timeless because everyone has heard them," he shared while explaining his peculiar love for pulling back old memories and blending them with current trends.

That's big and mind-blowing, and totally beautiful for his music sense.

"I'm hoping I can show audiences around the world how listening to these songs has greatly influenced my inspiration and my album," he said of the album.


Reaching out to his wide expanse of audiences, Bradley normally shares his inspirations on Threads and Instagram. And that is how, for instance, a fan reached out to him with the following songs to listen to:

Gramps Morgan - Butterfly

Craig David - Rendezvous

Tyrese Case - Best Man I Can Be

Joe - I Believe In You
Romain Virgo - Don't You Remember

It's the mutual respect and humbling accommodation for inputs of his fans too that makes him a finer personality and this album will be a big blast.

"The ballad writing has begun and it the hardest for me but guys pray that this song will be as Timeless as my single 'Why, Love me,'" one of his Threads said.

Eventually, Bradley Barley knows that Speaking In Tongues by Toni Braxton will forever be on top of the references he makes any time he needs the inspiration to close the 18-track album.

Just like Toni's soothing and calm song, Bradley will leave lovers of his album rejuvenated.
"Took 5 plus years to decide to do this so, Im gonna give my best for it to touch all demographics: 19-49 years, and also the Gen-Z friendly.

"This album is my story and letters to some lovers and potential lovers."