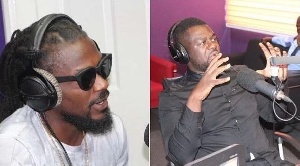 According to him, it is utterly wrong for the High Grade Family boss to pick another dancehall artiste ahead of his own Kaakie.
Samini is on record to have said that he would choose new entrant, Ebony over Kaakie when it comes to female dancehall artiste in Ghana.

Bulldog stressed that for Samini to openly pass such comments simply means he [Samini] doesn't believe in his own work. The artist manager added that, the respected musician has completely shot himself in the foot with his demeaning comment about Kaakie.

"I'll be surprised if really Samini chose Ebony over Kaakie, Samini brought Kaakie up so does it mean, he didn't believe in her? How will Samini feel if his own manager (Tony Daning) chooses Shatta Wale over him?" he quizzed.
Bulldog added that Samini and his High Grade Family must take huge shame for their shambolic job on the Kaakie, if he is today glorifying other dancehall artiste, Ebony Reigns.

"When Kaakie was coming up, it was High Grade Family that held her up so if Samini is saying this today, then all the work he did was for nothing," he said.