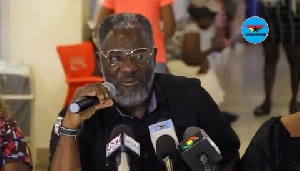 If your memory will serve you right, we reported some time that Bullet organised a tribute musical concert in honour of the late Ebony prior to her burial.
The concert in question brought a lot of controversies among the artistes who were billed to perform on the day.

As a requirement, the public was supposed to pay GH¢10 as entry fee and according to Bullet then, management intends to use part of the proceeds to finance a project dubbed, "Ebony Foundation".

Surprisingly, Mr. Opoku Kwarteng, father of the late Ebony, in an interview with Hitz FM has revealed that he had no idea or whatsoever about the purported "Ebony Foundation" which was broadcasted by Bullet.

According to him, Ebony's management team led by Bullet never contacted him to discuss issues about the foundation with him.
"I had no idea about Ebony's foundation that Bullet was talking about and nobody contacted me on that," Nana Poku Kwarteng on Hitz FM.