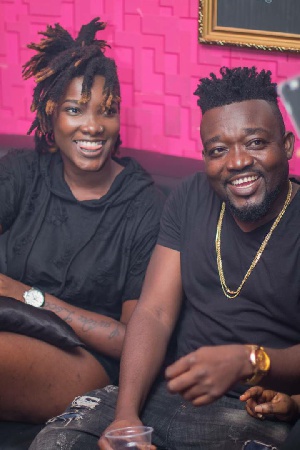 Contrary to what many people think, that Bullet might have raked in huge sums of money following the giant rise of Ebony in the industry, it was rather the opposite.
The manager of the talented dancehall artiste, Bullet, has revealed that he cannot boast of any profits made in Ebony in monetary terms.

Bullet was speaking in an interview monitored by YEN.com.gh on GHONE TV, when he appeared as guest on the 'Pundits' show with his deputy manager, Allen.

According to him, just when Ebony 'hit', opening way for massive cash in-flow, she died painfully, blocking all their investments.

Adding that all efforts made in the career of the 'Maame Hw3' hitmaker, have yielded no returns. He refuted popular opinions that he was making money from Ebony, saying he was rather "pushing" money into her.

"People were thinking that I was getting more money from her [Ebony's] career but that is rather the opposite. The truth is when she got to the peak of her career and things started taking shape for us to start benefiting from all our investment, she died. It is very painful to see all our efforts and investments in Ebony going down the drain," Bullet said while tapping his chest to accentuate his pain.
Bullet is on record for stating that the initial amount he started as investment in Ebony was $100,000 given him by Bola Ray.

However, from his submission, it seems he had not been able to benefit from that investment with the sad end of Ebony. He mentioned Ebony's Kasapreko deal as the biggest so far within two years of her career.

But that deal would also have to go down the drain since Ebony is no more to continue serving as brand ambassador for Kasapreko's Hi5 Chocomalt.

The host of the 'Pundits' show, George Quaye, who was obviously touched by Bullet's sad narration, "blessed" him saying, "May God help you find someone as talented as Ebony to continue with your record label."

But Bullet disagrees that that would ever happen. He said: "I don't think I will get someone like her; Ebony was different, she was talented. I am not sure of getting someone like her."
Ebony's one week memorial is slated for Sunday, February 18, 2018.