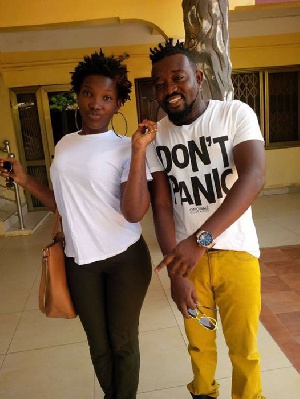 Father of late Dancehall Musician, Ebony Reign, Nana Opoku Kwarteng has revealed that her late daughter's manager, Bullet complained to him on several occasions about how difficult it was to handle the award winning artiste.
According to him, though that could be the case, he expected Bullet and the management team to efficiently discharge their duties to ensure that all was well with Ebony at all times.

"There's nothing all rosy, all good in this world, stars are very difficult to handle but as a manger you should make sure all is well with your artiste. Honestly Bullet had complained severally that managing Ebony was tough. He himself told me about some female artistes in America who are stars and are very difficult to manage, that means he understood the job he was doing as a manager. If you know this particular thing will fill the car then you buy exactly that, so he should have known that Ebony was stubborn, stars are stubborn, it has always been the case and he knew that. So he had to change the plan, if plan A was not working why didn't he change to plan B to plan C, that is management. So I had expected this guy to do some more. That time that Nana Hemaa (Ebony) sat in the car to travel was not worth it, as a serious management you couldn't have allowed that." he said on Peace FM.

Nana Opoku Kwarteng, accused Ebony's management team of negligence leading to her death in the gory accident that claimed her life.

He said their failure to monitor her movement was a clear dereliction of duty as they should have known her location and itinerary at every point in time and should have stopped her from embarking on that journey.

Ebony died after she was involved in an accident on the Kumasi–Sunyani road on February 8, 2018 around 11pm when she was returning to Accra from Sunyani, where she'd gone to see her mother who had returned from abroad.
Her friend, Franky Kuri, and a Military Man, Atsu Vondee, who is said to be her bodyguard on board a Jeep from Sunyani also died in the head-on collision with a VIP bus heading towards Sunyani from Kumasi.