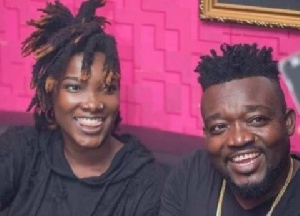 Nana Poku Kwarteng, father of late Ghanaian artiste, Ebony is of the opinion that it was too quick for her former manager, Bullet to "replace" her.
Kwarteng told Prince Tsegah on HITZ FM, he thought it was too early for Bullet to introduce his new artistes to the world on the 2018 Ghana Music Awards stage.

Ebony died after she was involved in a gory accident on the Kumasi–Sunyani road on February 8, 2018 when she was returning to Accra from Sunyani.

Her friend, Franky Kuri, and a Military Man, Atsu Vondee, who is said to be her bodyguard on board a Jeep from Sunyani also died in the head-on collision with a VIP bus heading towards Sunyani from Kumasi.

Her funeral service was held at the forecourt of the State House. She was later buried at the Osu cemetery on Saturday, March 24, 2018.