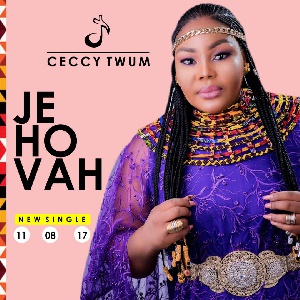 They say the gospel fraternity has been 'dry' thus far in the year – with no hit song yet, and interestingly, the reigning VGMA 'Artist of the Year' is a gospel artist – www.entertainmentgh.com is only stating the fact!
That talk of no gospel hit is about to change, thanks to the news that, celebrated songstress, Ceccy Twum, has announced the release of a new single, 'Jehovah'.

'Jehovah' – the new single that talks about the wondrous nature of God and his goodness, was expertly produced by one of the classy producers of all time, Nacee.

This will become the umpteenth time Ceccy is working with Nacee and the chemistry between them is always telling in their joint efforts, whether Nacee is only helping out with vocals, a feature or on production credit.

Ceccy Twum shines on the song with her eclectic voice and her stamp of authority on the song is simply exemplary.
'Jehovah' is exclusively set for release on Friday, Aug.11, 2017 on all radio stations across the country and also via online streaming.

The single is a precursor to a major concert to be headlined by Ceccy Twum at the later part of the year.

Watch the 2014 single, 'Se Meku Me Ho A- Ft. Nacee