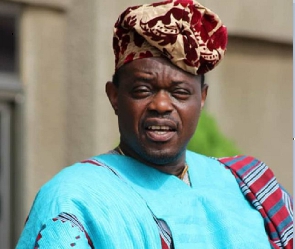 Late veteran actor, Ekow Blankson, won the hearts of many Ghanaians with his roles in movies, inspired and mentored young actors to unleash their potential.
According to his colleagues, he was the man who gave wise counsel. His ability to light up a room was unmatched.

Ekow who would have marked his 51st birthday on Friday, March 16, was a gem in the movie industry having featured in several movies and television series.

He starred in movies like 'In April', 'Checkmate', 'A Woman's Desire', 'The CEO', 'Accra Medics'.

His demise in October 2022, came as a surprise to many with fans, friends, and colleagues pouring out tribute to the veteran actor.

He was eulogized for his contribution to the industry and his love for all.
The late actor held a Masters Degree in Fine Arts with a marketing education from Heineken Global Commerce University, Amsterdam.

Ekow Blankson until his demise served as the Commercial Manager of GhanaWeb.

As we celebrate the life of Ekow Blankson on his birthday, GhanaWeb throws back to some of his memories.

Check out some posts below:


Thank you for blessing our screens with your amazing talent.

Rest Well....#nationalfilmauthority #mcm #growwithghanainvestinfilm #filmmakers #ekowblankson pic.twitter.com/8Q1d8DuFzj

— nationalfilmauthority (@nfaghana) October 17, 2022