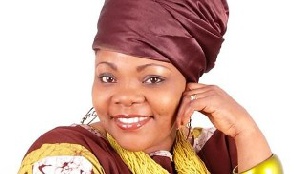 Fri, 26 Oct 2012 Source: Ernest Dela Aglanu
Gospel songstress, Celestine Donkor will lead a group of female gospel musicians to treat hundreds of music lovers to the maiden Extravagant Worship scheduled for the Royal House Chapel (Ahenfie) on October 28.
The all female event will seek to give worshipers a night of non-stop music ministration.

Apart from Celestine Donkor, several other renowned female gospel musicians and groups, including Ceccy Twum, Cynthia MacCauley, Voices in Worship of the Royal House Chapel and the Destiny Temple Choir, have been billed to make the event a memorable one.

Celestine Donkor told Myjoyonline.com in an interview that, the event is absolutely free but "we will take offertory and all the money accrued from the offertory will be donated to charity".
The Supernatural singer said the event, powered by Dynamics Unlimited, will be a night were song ministrations "will flow abundantly for God's glory to shine on mankind".

Extravagant Worship is the songstress' second major event for this year. On African Union Day, May 25, she thrilled hundreds with the second edition of her Celestial Praize concert which was aimed at touching God's heart to give Ghana peace during the December elections.

Extravagant Worship, she hinted, will be an annual affair which will serve as that unique platform where worshipers will come and worship the Lord to the fullest.
Source: Ernest Dela Aglanu