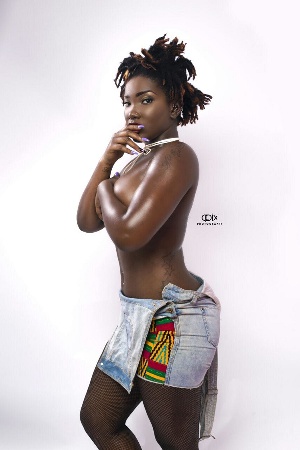 Ghanaian Gospel musician, Celestine Donkor, has joined the many others calling Ebony to order for exposing her nakedness to the public.
The gospel minstrel is obviously not happy with the way Ebony is going about throwing her nakedness to everyone wherever she goes.

On Saturday, November 18, 2017 Ebony performed at the 4syte TV Music Video Awards and her apparel got everyone talking. As if that was not enough, she again went out in another clothe which fans have described as very offensive.

With the foregoing, Gospel musician Celetine Donkor took to her Facebook fan page to address Ebony. In the letter, she praised Ebony for her talent and hard work.

However, Celestine condemned her dressing and grooming. The gospel diva wrote:

"Dear Ebony, I have taken time to listen to your songs, and watched most of your live performances on [youtube]. I must say you are a very talented artist….actually."

#YourTalent&Style: weight for me, is like combining 3 secular female [artistes] whom I don't want to mention their names here.
#YourLyrics: are very smart and takes a very strong feminist disposition- Empowering women and bringing out challenges and Delimer that young [lady's] face.

#YourVoice: is simply amazing! Very strong and catches attention instant attention without negotiation.

#YourBrand: though still developing Is a contagious fever that can't be ignored. With a strategic management team, you are capable of contending with any Competitor.

Now the contradiction about you is how you interpret all these great qualities on stage….. My point is with all these….. Is 'nudity' necessary? I really want to know, what value does exposing your nakedness to the public add to your brand…. Because actually, it's not Like going nakedly wild on stage is something new……. Mzbel did that before…."

Meanwhile, Ebony has stated on many occasions that she doesn't pay attention to what people say about her.

It is however unclear how she would react to this message from the respected gospel singer Celestine Donkor.