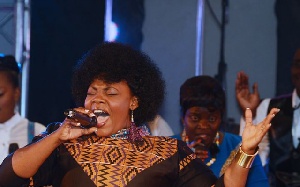 Celestine Donkor has slammed Ideal Finance describing its workers and board as incompetent. Her comments follows what she termed as 'last minute' rejection by the company four days to her annual event, Celestial Praiz.
According to the musician, organizers of the event approached Ideal Finance to sponsor her annual event but withdrew their package only four days to the event which is slated for May 1, 2017. She was speaking on GH Entertainment with Agyemang Prempeh on Rainbow Radio 87.5Fm.

She said, there gave me an approval as the headline sponsor. When you listen to my jingle, it's Ideal Celestial Praiz which means they gave me a yes as the headline sponsor.

We were waiting for a cheque to be released after we have done the jingle and given the benefits outlined for them, only for them to call us to say that, they cannot sponsor the program…We told them we cannot accept that because we've done our part and we have evidence of communication that we had approval.

So we went back and they told us that they will review the sponsorship. They later promised to give us only 20 percent of the amount. That is the problem I am talking about. You cannot do this to Shatta Wale,'' she added.

She described as disrespectful to her brand and insisted that, Ideal Finance should pay for the sponsorship adding, ''It is a highly disorganized organization because we gave you the proposal last year December and four days to the event, you call to withdraw the sponsorship.
Celestine Donkor told the host that she did not want to stress the issue but wanted to finish the event and initiate a legal action against the company.

She also revealed further that, she lost an opportunity to host the event at the Royal House Chapel for free after the incident. When contacted, Mr. Ekow Blankson, Director of Public Communications and Strategy at Ideal Finance said, they never gave the approval to sponsor the event as alleged by Celestine Donkor.

According to him, in his mind, the answer was no but he mistakenly typed yes. This comment came after the host had asked him whether he had not exchanged messages through WahtsApp with the organizers approving of the sponsorship. According to him, the company is well structured and ''we have a committee that sits on all sponsorship and we looked at it and approved a certain amount of money but unfortunately they didn't meet the amount which we discussed…I was quite transparent to them and what was approved was not up to the amount…We had to mention to them what has been approved.'' We also denied that the company should use Ideal Finance as the title sponsor.

''When we saw our name on the billboard I said to them it is not done…You sent a proposal to us and we have to write back to you to say what amount has been approved…I was the main person they were discussing this with. I never gave them a letter approving that they should use Ideal Finance on their billboards.''

He stressed that, because of the pressure given him by the husband of Celestine Donkor, he typed yes instead of no when he asked if Ideal Finance could be used for a croller. He insisted that the company only agreed to give an agreed amount and the letter to that effect is almost ready.
In his view, it will not be very good to say that a WhatsApp message was the basis for them to use Ideal Finance on their billboards.

''It is quite unfair that they are standing on a yes but let out all the other message on WhatsApp and say we have committed the company.'' He however confirmed that the organizers came to them last year and they decided to give some support because the idea was good but the company was not into these kinds of events.

''I was really interested in the event but I told them that I am not the overall. There is a committee that sits to approve proposals.

So I am highly disappointed and bitter that they want to pin me down because they feel I committed the company.''