Entertainment Thu, 7 Aug 2014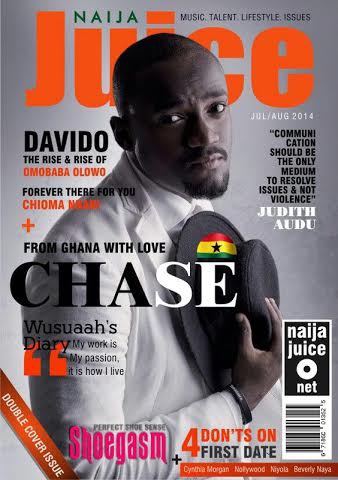 Ghanaian musician, Chase Forever covers the latest edition of Naija Juice Magazine as the first Ghanaian to feature on the cover of the magazine since 2011.

About Chase Forever
The Ghanaian recording artiste and songwriter was born, Fianko Bossman, June 24 in the mid-eighties, in Hackney Town, London.


He started writing song verses and performed any chance he got at a tender age. He participated in every talent show organized by his school.


In the year 2000, he joined a rap group called Souljas Inn and was considered one of the best battle rappers in Ghana.


Souljas Inn's first single, 'One Day' was featured as a soundtrack in Shirley Frimpong Manso's film, 'Perfect Picture'.


He has written songs for numerous Ghanaian artistes including, Becca, D-Black (a 2009 Channel-O award nominee), Jane of Stars of the Future fame, Mimi of Big Brother Africa fame, Adina of Stars of the Future fame and Richie of Lynx Entertainment.


He has also performed on the same stage with well-acclaimed international stars like Mario and Shontelle from the United States.

He was nominated twice for 2012 Vodafone Ghana Music Awards (VGMA 2012) and won "male video of the year at the 4Syte Music Video Awards.


He is known for his popular songs 'Finally', 'Lonely', 'Tell me your name', and 'Fire'.


Also, his videos were shown on all major Ghanaian TV networks and foreign networks such as MuchMusic, VH1 Soul, Channel O, Trace, and MTV.


He just released maiden album titled, Unappreciated at a launching ceremony which attracted the creme de la creme of Ghana's entertainment industry.


On Thursday, August 7, he will also release his new video for the remix of his song, 'Pull Me Down' featuring Samini.

Photo by Oabphotography
Source: Francis Addo/ News One