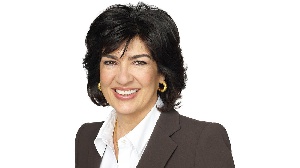 Ghana's journalist Manasseh Azure in his latest writeup has commented on the Moesha-CNN interview which has generated lots of debate on social media.
CNN's Christiane Amanpour in her response to the outburst expressed her disappointment at how the press and social media users 'lashed' the Cocoa Brown actress.

However, responding to Amanpour, Mr. Azure told the host of 'Love and sex around the world' that her double standards stink.

He used the opportunity to assure Amanpour that there is freedom of speech in Ghana.

Read his full letter below

Dear Christiane Amanpour,

I have read your article in defence of Moesha Boduong, one of the people you interviewed in Ghana as part of your documentary on love and sex around the world. Your article is addressed to Ghanaians, especially the media.

You expressed your outrage at the outcome of the said interview, the condemnation Moesha has received following the publication of excerpts of your series. You wrote:

"As a woman and a journalist, I'm hurt and angry to see such an innocent woman condemned by the press and by many people on social media in this way. It's to the point that Moesha is not sure she can return to Ghana safely. I am so surprised to see this happening in Accra, a city that has rightly got so much attention recently for being one of the most economically and politically successful capitals in Africa. Indeed I was heartened while I was in Accra, listening to a speech by the President himself, defending the rights of the free press to report fully, accurately and fairly…"

First of all, I want to assure you that there is freedom of speech in Ghana. And what the president said is a true reflection of the reality. You can trust the President when he talks about freedom of speech. He repealed the Criminal Libel Law when he was the Attorney-General and Minister of Justice. And he appears committed to passing the Right to Information Law before he ends his term as President of Ghana. So he was not lying in that speech you heard.
Ghana constantly ranks higher than the United States in the annual Press Freedom Index compiled by Reporters Without Borders. In 2017, for instance, Ghana ranked 26th while the United States ranked 43rd. So there is free expression in Ghana.

Besides, don't make this a woman thing. Like the Archbishop rightly told you, women are free here. There is no state-sponsored discrimination against women. Taboos that inhibit the development of women are fought and criminalized by the state. Men who say stupid things about women often get unanimous condemnation from both men and women.

Women in Ghana seem to have more unfettered freedom of expression than men these days. Men have to be extremely politically correct in the wake of the feminist movements. Women get away with comments that would get men into trouble.

We had our Music Awards last weekend. While Samini, one of the best musicians in Ghana, performed, a radio and TV show host tweeted that anytime she saw the energy Samini exuded on stage, she imagined him in bed.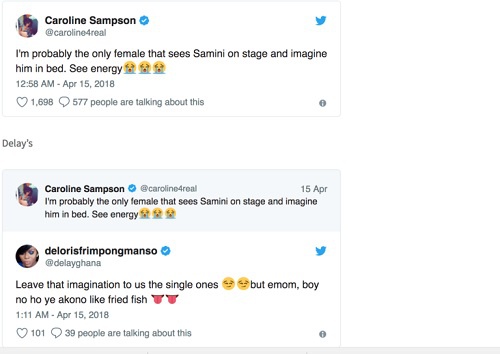 This passed without any furore. I can assure you that if that statement had been made by a man in Ghana, hell would have come tumbling onto mother earth. So the reaction that greeted Moesha's interview had nothing to do with she being a woman. Let's get into the substance of the discussion.

Amanpour, if you will be truthful to yourself and your conscience, you will realize that much of the condemnation resulted from her generalisation and the lies about Ghanaian women.

Moesha did not limit the conversation to her lifestyle. She suggested in your interview that the economy of Ghana was so hard that a woman could not earn a decent livelihood:

"Ghana, it's like our economy is just such in (sic) a way that you just need someone to take care of you… You can't make enough money as a woman here. Because even when you want to get an apartment in Ghana, they take two years' advance and I just started working. Where will I get money to pay for an apartment for two years?"
Obaapa Christiane, that's where the problem is. Moesha told you a lie when she said a woman in Ghana couldn't make enough money to take care of her needs. It is not true. It's a lie. And Ghanaians had to point that out.



Of course, I understand your pain. Moesha's lie fits into your stereotypical narrative and the unfortunate generalisation and characterisation of Ghanaians, whom you describe in the promo as "Sunday morning saints and busy sinning the rest of the week." The more we expose the weakness of Moesha's claim, the more the credibility of your own story suffers.

Have you asked yourself why nobody condemned the confession by the woman you interviewed together with Moesha? She spoke for herself. Moesha spoke for others.

Amanpour, when Moesha told you she had to give in to the sexual demands of her man even if she was sick, you exclaimed, "Holy cow!" Why did you exclaim if she was just expressing her sexuality? It is not a lifestyle that is okay to you, judging from your reaction. And it certainly is not right with others.



There is also a video of you advising Moesha before you parted company. In that video, you, Christiane Amanpour, said to her, " When you have your own daughter, good luck, teach her to be free and independent."

Why should she not teach her daughter to live the kind of life she was living if everything was okay with it? Or are you telling us you have the right to see something wrong with that lifestyle and advise Moesha, but those of us who live with her here cannot express an opinion even after she tarred all Ghanaian women with the same shameful brush?


There is a saying in Ghana that "everyone loves a fool but no one wants him for a son." In this case, you loved the content Moesha gave you but, as someone who is known to have empowered women with your influence, you were not proud of her as a person. So you held her hands and advised her, like a mother would advise her daughter.

If there's any judgment, you started it. You basically told her this: This lifestyle is shameful. Your daughter should not do what you're doing. Teach her to be different. She must not be in this bondage of sex to survive. She must be free.

It smacks of double standards on your part to disapprove of a lifestyle and condemn Ghanaians who also disapprove of it.

And if any of you male colleagues at CNN told you that he sleeps with another man's wife, would you commend or condemn his behaviour? Why do you want Ghanaians to think it is normal in Moesha's case?

As a journalist who has travelled widely across Ghana, I will be the first to admit that our economy is not what we are proud of as Ghanaians. I will also be the first to admit that finding a job is a difficult task, but it is not limited to women. In the midst of this difficulty, however, Ghanaian women are some of the most resilient and enterprising you can find anywhere in the world.

There are many women who are single-handedly taking care of families while contributing significantly to the growth of this nation. From the markets to the farms to the corporate world and in public service, women in Ghana are excelling with their brains and talents and physical strength. Some of those women have no basic education.

When I was in the journalism school, there was a lady called Florence Adjokatcher. She was from a financially distressed background and supporting her education was difficult. This lady ignored the scornful eyes and mocking mouths of colleagues and set up a joint on campus where fried yam and sold to her colleagues. In Ghana, that job is meant for people who have not been to school. But that was what Florence did to pay her fees. She graduated with first class. As a young woman, she could have chosen to sleep with men to pay her fees, and use poverty as an excuse.

If Moesha, a university graduate, tells you that the only way to survive as a woman in Ghana is to sell her vagina to someone's husband, it is not representative of the reality in this country. Ghanaians have the right to reject that assertion.

And for your information, this is not the first time Moesha has spoken openly about her sex life. Go on YouTube and type "Delay Interviews Moesha Boduong." They spoke mainly Twi so get yourself an interpreter. She said more damning things about her sexuality in that interview than what she told you. Whoever selected her for you to interview probably watched that interview or knew how she made a living. It was not a new revelation in Ghana, except her generalisation.


In that interview, she revealed her taste for good living kept rising, so if at any point in time, a man was not able to cope up with her increasing demands, she often moved on to someone richer, who could afford to fund such lifestyle.

In that interview, she spoke about her life. Ghanaians did not charge at her because she did not suggest that was the life of all Ghanaian women. In your interview with her, she had the right to say what she said. Ghanaians had the right to agree or disagree with her, to commend or condemn her pronouncements.

And if Moesha tells you she's afraid to come to Ghana, it is not strange. Admittedly, the economy of Ghana is hard. People who would not want to make it the hard way will look for the least opportunity to emigrate. Someone like Moesha, whose lifestyle is not sustainable beyond a certain age, has a "good" reason look for greener pastures elsewhere before her stock in trade expires, before her raw materials sag and wrinkle. You can help her to resettle for those reasons if you so wish and care, but Ghana is safe.



As an investigative journalist who does hard-hitting stories and articles that have landed people in jail and sometimes hurt the most powerful in this country, I find it extremely laughable for Moesha to pour her heart out to Amampour about her safety because she talked about sex. She probably takes herself more seriously than we do.

Till our paths cross again,

I am, Manasseh Azure Awuni, your colleague in the media.