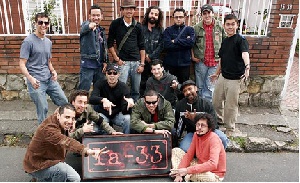 From the advent of Salsa in the Ghanaian landscape, the dance and music genre has grown to be accepted by many, and for the first time the country hosts a Salsa concert featuring the hard-swinging salsa and Latin jazz group from Colombia, La-33, on June 7.
The concert which takes place at the Round Pavilion of the Accra International Trade Fair Centre is organised by the Alliance Francaise Accra, in partnership with the Colombian Embassy to give salsa lovers a feel of Salsa from Bogota.

La-33 has 60 thousand albums sold and nearly 2000 presentations in 5 continents over a decade making Colombian salsa a reference and a new experience to the world. Their music combines both new and old school - classic New York City salsa sound of the 60's and early 70's, as well as Caribbean and urban rhythms.
The group has a diverse musical background which includes rock, funk, ska, folk, classical music, fusion and jazz which has been pivotal in their success. They're known as the rockers of salsa because they combine the true swing and sabor of the classic salsa orchestra with a true rock 'n' roll attitude.

La-33 is a band that generates excitement with a sense of humour as they create a balance between their lyrics, arrangements and live show.