Counsellor Lutterodt deserves to be whipped mercilessly for trying to attack Efia Odo - Sister Derby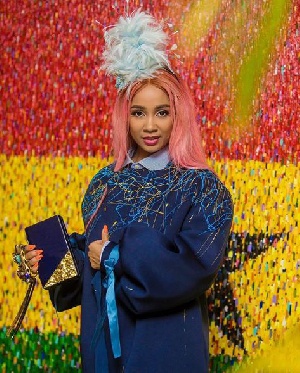 After several publications on Efia Odo these past few days due to certain revelations made by anonymous snapchat user fatpu$$y005, the former met with the outspoken counselor Luterodt in the studios of Okay FM on Friday, February 22.
The counsellor who is known as a 'no-nonsense' man nearly attacked Efia Odo if not for the timely intervention of Abeiku Santana.

Counsellor Lutterodt was angry at the fact that Efia Odo whose name had been trending within the week and tagged as a 'prostitute' came to the studio putting on inappropriate attire.

We were not so sure if he wanted to beat or strip her nak3d but he kept saying Efia wasn't from a 'home'.

Several people frowned on his actions as a man is not supposed to attack a lady no matter what especially in that manner.
Sister Derby upon hearing the news took to Twitter to comment. She was angry hence said the counselor deserved to be whipped.

Below was her comment and Efia Odo's reply: