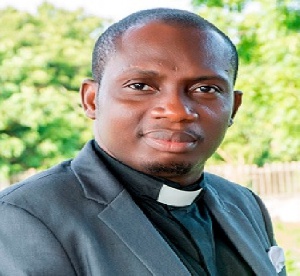 Counselor Lutterodt is not happy with rapper Criss Waddle over reports that the musician has had an affair with SHS leaver known as Mary.
The controversial counselor in an interview with MzGee on Hitz FM described the Tema-based musician as a "small boy" for engaging in such act with the young girl.

When the host corrected him that Criss Waddle is not a "small boy" as he described him, Lutterodt asked if the raper qualifies to be called an adult after sleeping with an 18 year old.

"If Criss Waddle is in his 30s and his interest is to have sexual intercourse with an 18, is he an adult? " he asked.
On Criss Waddle's comment that the lady staged the act for fame, Counselor Lutterodt said "that is the most loose statements all the famous boys are using and that is why we have a lot of children in the system and we call them role models".

He continued to say that Criss Waddle is not a role model but Ghanaians list him among the few persons looked to by others as an example to be imitated.

"They are nothing besides role models but we classify them as such. Its not just Criss Waddle." he told MzGee.