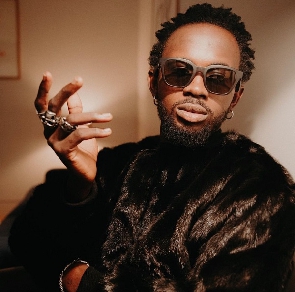 Controversial Ghanaian marriage counselor, Cyril George Carstensen Lutterodt, popularly known as Counselor Lutterodt, has cautioned the Ghanaian singer to take his spiritual life seriously.
The vocal counselor noted that the court cases have become one too many for his young career. He also added that it appears to overshadow his positive works.

" What Black Sherif is going through is not normal. This could be a demonic attack", he said.

"Black Sherif should take his spiritual life serious whether it's Allah, God or gods. They should turn to the other side. He should not just do music because his personality and career is under serious demonic attack ", he further stated.

On April 11, 2022, Black Sheriff was sued by his former financier, Shadrach Agyei Owusu for signing on to his current record label without his consent.
Fortunately for the young artistes, the court ruled in his favour, explaining that an injunction will be harmful to his career.

Barely a year on, Black Sherif has been slapped with a $100,000 sue by Cruise People Limited over a contractual breach.

It was reported on July 19, 2023, that Black Sherif was arrested at the Kotoka International Airport following a complaint from the Cruise People Limited.

Speaking on Peace FM, CEO of Cruise People Limited, Daniel Vanderpuye disclosed that Black Sherif failed as part of their agreement to create a promotional video for the upcoming event in August after having received a part payment of $20,000.