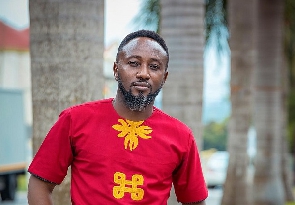 Actor, playwright, and media personality, George Quaye, has called for a shift in public perception towards the creative industry in Ghana.
According to him, the perception of the industry as a place for unserious individuals is outdated.

George Quaye, who is also the CEO of Image Bureau, a communication and event planning company, expressed his views during a live Twitter spaces discussion with Graphic Showbiz.

He emphasized that Ghana's creative space has evolved and now requires advanced technology and industry knowledge, thus, it should no longer be considered a realm for unserious individuals, given its current role in shaping society.

"It demands advanced technology and adequate knowledge of the industry from its players to thrive and as such, it shouldn't be seen as the preserve of the unserious, given the changing trends and the critical role the current space plays in shaping society," he expressed.

According to Quaye, there has been a positive transformation over time, with some people recognizing the value within the industry. He acknowledged that in the early days, it seemed like a sector that was a liability, but things have changed, and he expressed gratitude for those who saw the potential.
"It started out as oral tradition; concert party, among others and we were never considered a serious part of anything. The people who started did not have much going for them," he explained.

"Things have changed overtime. Thanks be to God and a few of our people began to see the value of it. This is because in the early days, it looked like a sector that was a liability," he stated.

George Quaye's comments come amid debates over the state of the creative industry in Ghana. Calls have been made for support from government and the general public to help grow the industry.

Additionally, consumers have been advised to stop the trolling and focus on supporting the creatives in the country to be able to compete on an international level.

ID/NOQ


Click here to follow the GhanaWeb Entertainment WhatsApp channel

Ghana's leading digital news platform, GhanaWeb, in conjunction with the Korle-Bu Teaching Hospital, is embarking on an aggressive campaign which is geared towards ensuring that parliament passes comprehensive legislation to guide organ harvesting, organ donation, and organ transplantation in the country.

You can also watch the newest episode of Nkommo Wo Ho on GhanaWeb TV below: