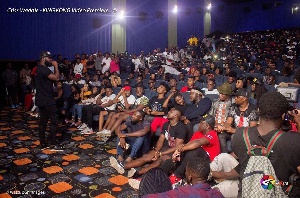 Head of Communications of Zylofon Music and seasoned entertainment critic, Arnold Asamoah-Baidoo has taken some time to school CEO of AMG Business, Criss Waddle, on the things that go into the work of a blogger after the rapper took to his various social media handles to blast bloggers for failing to talk about his successfully premiered 'King Kong' music video.
In an interview with Zionfelix on Radio Univers' Brunch to Launch Entertainment show, Arnold stated that the dictates of the blogging job are such that no one, and especially an entertainer, tells the blogger what to put on his personal blog he or she has acquired with his own revenue. He added that the blogger has the sole right over the contents he decides to put on his or her blog without seeking permission from anyone.

Arnold went on further to tell Criss Waddle that since this was his personal project if he actually wanted bloggers to carry the message about the success of the event, all he had to do was to invite journalists to the show.

On the point about bloggers publishing a news item if it is negative without any invitation, Arnold made the point that it is the same everywhere in the world.

He added that bad news always sells and as such, a blogger does not need an invitation to publish bad news.

Criss Waddle took to his twitter handle yesterday, November 26 to roast bloggers for failing to project his 'King Kong' video premiere success. On his account, he wrote: "GHANA bloggers and their addiction for stupidity, it's 2:18pm and nothing in their head is telling them to blog the impact we made yesterday, Let me start insulting Sark, Shatta or Stonebwoy right now,u will see their attention, so so negativity u guys LIKE".
He further added that: "Imagine if just two people showed up for my video Premier nanka u go see headlines same night, they won't even wait till people wake up". It is as a result of these comments and a few more from the talented rapper that has caused Arnold Asamoah to give him this priceless education.

Check out Criss Waddle tweets below…


GHANA bloggers and their addiction for stupidity,it's 2:18pm and nothing in their head is telling them to blog the impact we made yesterday,Let me start insulting Sark,shatta or stonebwoy right now,u will see their attention,so so negativity u guys LIKE ????

— Criss Waddle (@CrissWaddle) November 26, 2018
Imagine if just two people showed up for my video Premier nanka u go see headlines same night,they won't even wait till people wake up ????????

— Criss Waddle (@CrissWaddle) November 26, 2018
All I'm saying is u guys r quick to blog on negative news,all in the name of bad news sells.If u have energy for negative why not same for positives.If u r not paid for selling negative why not sell positive for a blessing.After all,U always compare us to Nigerian Artist

— Criss Waddle (@CrissWaddle) November 26, 2018