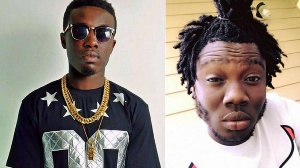 Showboy, born Sam Kwabena Safo, a Ghanaian entertainer and co-founder of AMG BUSINESS has been convicted and sentenced to jail for 6 years
Showboy has for the past three (3) years been battling a court case in America, Georgia State for allegedly stabbing Junior US, another Ghanaian resident

According to Showboy, Criss Waddle who happens to be his best friend sent Junior US to deliver some amount of money and laptops to him. Upon his meeting with Junior to pick the items, Junior begun to badmouth Criss Waddle to him which he couldn't take and lost his self control. This resulted into an argument and a fight ensued between them in Showboy's apartment in Atlanta Georgia. Showboy in the process stab Junior US with scissors.

The court tussle came to end when on March 15, 2019, the judge at the Georgia State pronounced Showboy guilty and sentenced to six (6) years jail term.

This news wasn't a pleasant one for the AMG Business Music Label team members as Criss Waddle and Medikal took to Snapchat to show their displeasure and support for their brother.
This news however was received with delight by the SM boss, Shatta Wale as he was seen to be wishing Showboy remains in jail for 100 years.

However, well wishers are all praying and hoping for a possible review and appeal for Showboy's conviction.

The campaign hashtag for his release reads, #FreeShowboy is still circulating we pray this reach the various stakeholders soon.

#FreeShowboy #FreeShowboy