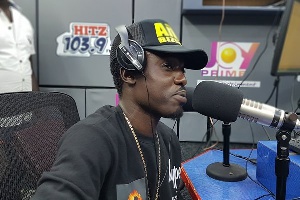 Ghanaian hip hop artiste and the CEO of AMG Business Kweku Addai popularly known as Criss Waddle has mocked social media sensation now turned musician Archipalago over his first song.
The AMG boss took to Facebook to ridicule Archipalago after he gained 1.4k dislikes on his first single on Youtube.

Criss Waddle wrote; "Anane Dennis her Archipalago your new song for YouTube no, the dislikes be 1.3k way the likes be ONLY 214 ??? abi na u think say music Be comedy eh ??? Kwasia Banku #fane 10 #AMGBUSINESS"

Archipalago originally known as Anane Dennis has come under heavy backlash after he released his first single dubbed "Megye".

The song which currently has over 1.4k dislikes and 267 likes on YouTube has been described by viewers as noisy and nothing to write home about.
Archipalago is known for criticizing celebrities over their works but it's unfortunate that he has made a mockery of himself over his new single.

See post below;