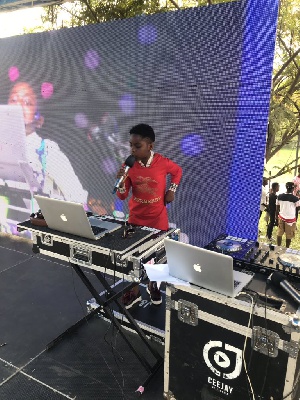 The Rattray Park at the heart of the garden city of Kumasi came to life on Saturday, December 22 when kids of all ages thronged the place to have fun.
Christmas seems to have come early for these kids as they were treated to exciting performances from past winners of TV3 Talented Kidz who are on a fun tour across the country.

The Talented Kidz bus made its first stop in Kumasi with winner of Talented Kids in 2016, and Ghana's youngest DJ, DJ Switch and this year's year winner, Samuel Owusu getting off to entertain hundreds of kids at the park.

As usual, DJ Switch was in her element, dishing to patrons song after song, as they danced and jam from noon till evening.

Other past winners and contestants were also onboard to entertain their fans who made it to the Rattray Park for an early Christmas jam put together by TV3.
Over the years, TV3 Talented Kidz has served as the platform for kids to showcase and develop their talent

As part of activities marking the festive season, the Talented Kidz Fun Tour has been put together to entertain kids around the country as they meet their favourite young stars.

The next stop for the tour bus is the Efua Sutherland Park in Accra on Friday, December 28.