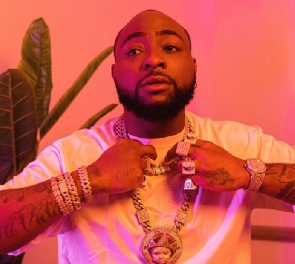 Scores of netizens have taken to Twitter to express sadness at Davido's absence at the 2022 World Cup Opening in Qatar.
The likes of BTS' K-pop superstar, Jeon Jungkook, and Qatari singer Fahad Al-Kubaisi, took the centre stage to thrill the thousands of spectators present at the stadium.

But chancing on experts of the colourful opening ceremony which has been touted the best since World Cup's inception, fans have established that it would have been a historical moment for Davido to have been present on such a huge platform.

Davido was scheduled to perform the 'Hayya Hayya (Better Together) Official World Cup song with American singer, Trinidad Cardona, and Japanese singer Aisha.

However, due to the demise of his son, Davido was absent at the Al Bayt Stadium in Qatar where the 2022 World Cup opening is being held.

The 'Champion Sound' hitmaker who is said to have been in a destabilized state ever since he lost his son, Ifeanyi, has postponed all his concerts.
He is yet to either speak or make a public appearance following the demise of his 3-year-old son.

Read the tweets below:


World Cup day !!! Official theme song. Davido x Trinidad x Aliyah.

Big W for Afrobeats ????????⚽️????????????
pic.twitter.com/L5nHmYJvI6

— OTUNBA ???????? (@ManLikeIcey) November 20, 2022
Davido would have been performing today. His Instagram story would have been lit ????. I always visit his IG twice a day just to watch his videos. Miss him ????

— Ruddy (@Ruddeyyy) November 20, 2022
Constantly praying for Davido. He's always in our thoughts ❤️❤️

— Iseunife The First (@Shawnifee) November 20, 2022
If you have a video of people dancing to HAYYA HAYYA by Davido, pls post with the hashtag #FifaWorldCup

— `????????????????????????????????????????????️???? (@MissRozapepper) November 20, 2022
If not for the unfortunate incident that happened @Davido is supposed to be at Qatar ???????? by now preparing and doing sounds check for his first ever official World Cup live Performance..????‼️It's
Well ???? God Is Your Strength ✊001???? pic.twitter.com/91jdty5ctl

— ????????????????????3???????????? ????????➐ (@Zaddydmw) November 19, 2022
Davido would have been in Qatar today giving us updates & catching cruise with Isreal. Sigh

— TIFE???????????? (@ZeekiHodl) November 18, 2022
We were at a time hoping Davido will represent Nigeria???????? at the 2022 FIFA World Cup ????

Stay Strong King ❤️ pic.twitter.com/Wd726BLcTp

— Rãbsöñlèê (@RabsonLee) November 18, 2022
If you are really missing Davido, like this tweet. ????❤ pic.twitter.com/UcEkVlZgeG

— sophia (@90sSophie) November 18, 2022
The World Cup opening with Davido performing is something I was looking out for but things happen. We don't have control over.
I pray he comes out finer, saner & better.
A Better Time ahead. Stay strong @davido.
We hope to see him live at Adeleke's swearing in in Osun. pic.twitter.com/pCxcPTs4Xs

— President Eniola Daniel (@UnlimitedEniola) November 19, 2022
Charley edey pain me give Davido ????

— KALYJAY (@gyaigyimii) November 20, 2022
EB/FNOQ