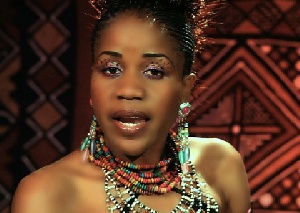 One of the most dedicated and respected Showbiz personalities of our time, Reagan Mends has made a staggering revelation that Zylofon Media will be complete after signing multiple award-winning female traditional artiste Sherifa Gunu.
Reagan Mends, who is better Known as Online News Surgeon, together with Sherifa Gunu announced their come-back as artiste and manager in May this year after breaking up in 2012.

It's quite unclear what masterminded their breakup but they teamed up to release Sherifa's biggest hit song ' Mbrantie' that got Sherifa numerous nominations across the world.

Speaking in an exclusive interview with Bryt FM's Grace Afumwaa in line with whether he would consider the signing of Sherifa Guru by Zylofon Media, Reagan Mends delineated unequivocally that Zylofon Media needs to sign Sherifa Gunu to make the company complete:

"You see some may say I want to lobby in order for Sherifa Gunu be signed by Zylofon Media…see, without Zylofon Media she has achieved so many laurels than most of the signees…but the thing is, Zylofon has signed a gospel musician, Dancehall artistes, Highlife artiste, actors' but have they signed a traditional artiste? Reagan quizzed
Reagan Mends, who is a Journalist at Hot 93.9FM, and editor of Razzonline.com explained that:

"No, so if Zylofon Media who claims to have the industry at heart hasn't signed any traditional artiste then they are deviating…they need to sign a traditional artiste to be complete because they rather portray our Ghanaian culture and I believe they can start with Sherifa Gunu; she is the most successful female traditional artiste in Ghana...she has all the qualities an artiste needs to even win Grammy".

According to Reagan, Sherifa Guru who well noted with the hit songs 'Yumyantaaba" and "Mbrantie" is currently embarking on humanitarian projects in Germany and Italy.