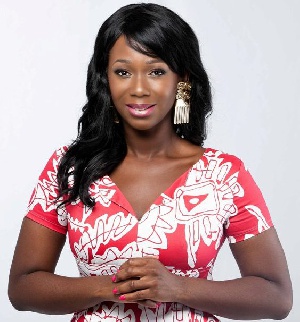 Afrocentric actress, Ama K Abebrese is on the media run promoting her new flick "Double Cross".
Speaking about the movie and its premiere plans on Pluzz FM, the actress took time out to address some rumors that were making rounds.

She revealed kissing John Dumelo was like kissing a brother but her scene with Jimmy Jean-Louis in Sinking Sands was sweet.

"I haven't had that many kissing scenes. I have kissed like only two or three people in a movie before. Kissing someone like John Dumelo was like kissing a brother. The most memorable one will be Sinking Sands with Jimmy Jean-Louis. But I have done kissing scenes on stage in the UK."

"I can't say the most memorable one because the headlines will run crazy and ten years from now my children will be reading about that online and I don't want that. All I can say is that they are all memorable and special. Currently I am dating which is heading towards marriage."

She responded in the negative when asked about her dating Black Stars midfielder Kwadwo Asamoah.
"The Kwadwo Asamoah rumor was the most untrue thing I heard about myself when I arrived in Ghana. At the time I was pretty new to the system here and kept wondering what sparked that rumor. It was reported that, we were spotted together when in actual fact I had never met him in person yet. It was that bad and later I found out that he was married."

Touching on Kill Me Shy song star dating her, she said;

"D Cryme! – The day I went to shoot D Cryme's video was the first time I met him. After we shot it, I didn't see him for about six months. It was his manager who called me to come shoot the video because he knew me from OBE TV. I didn't even know D Cryme when they called; so I had to jump on Youtube and check the song and him out. My whole life I can count the number times I have met him."

Her movie Double Cross premieres at SilverBird Cinemas soon.