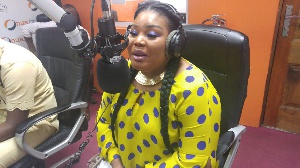 Gospel Songstress, Ceccy Twum has admonished all gospel artistes to release songs that have great content and can impact lives. She said this on the TIG Show with Frankie5 on Hitz FM.
According to her, some gospel artistes concentrate only on their voices instead of working on spirit-led songs. She believes some of them just fancy going to the studio to work on songs without considering the impact it could have on people.

She also noted that people don't regard gospel artistes because of the way they sometimes package themselves. She stated that flamboyant living is not an expression of pride but a blessing. Cecy added that some of the gospel artistes come out with any song at all because they feel they are doing it for God. But she rather believes it should be done well since it is to glorify God.

She advised that whatever they bring out should be clean and on point so as to glorify God. "Gospel artistes should always work on good music videos to complement their songs instead of always using flowers and other irrelevant things in their videos," Cecy noted.
Meanwhile, when she was asked why she has never been awarded the overall artiste at the VGMAs, she responded by saying her time isn't due yet and also maybe the organizers think she is not qualified yet. However, she believes her focus is not really on awards because they won't take her to heaven but believes she will be awarded at the right time. But she has hopes that a gospel artiste will one day pick up the ultimate award at the VGMAS.

Contrary to what other gospel artistes say about their unwillingness to go to the club to minister, she has made it clear that, she will go there any time the opportunity presents itself to win souls for God. According to her, Jesus Christ came for the sinner and not the righteous.