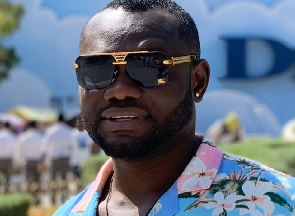 Popular Ghanaian actor, Prince David Osei recently shared some valuable life advice, encouraging people to learn to say "NO" and mean it.
The actor, known for his roles in various movies, emphasized the importance of not allowing others to frustrate one's well-being.

In a post on his X (formerly Twitter) handle, Osei noted that individuals should not feel obligated to please everyone around them, stressing that one should preserve energy and mental health by setting boundaries.

Osei suggested that if someone does not contribute positively to one's life or align with their energy, it's acceptable to push them away. The actor's straightforward advice promotes the idea of prioritizing self-care and maintaining a healthy environment.

"People will frustrate you if you allow them learn to say NO and mean it!! You didn't come into this world to make everyone happy. If they don't sum up your energy, politely tell them to F*ck off!! Have a blessed day fam," he said.

Prince David Osei's comments come amid various calls for celebrities to be mindful of their mental health.

Personalities including Efya, Kuami Eugene and Funny Face have been vocal about the pressures faced by celebrities in Ghana.
ID/ DAG

Click here to follow the GhanaWeb Entertainment WhatsApp channel



Ghana's leading digital news platform, GhanaWeb, in conjunction with the Korle-Bu Teaching Hospital, is embarking on an aggressive campaign which is geared towards ensuring that parliament passes comprehensive legislation to guide organ harvesting, organ donation, and organ transplantation in the country.

Watch the latest episode of Everyday People below: