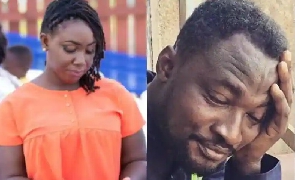 Vanessa, has stormed social media with a long speech, addressing critics who have slammed her, following her 'infamous' interview with Kwaku Manu.
Earlier after passing comments that suggest a possible reunion with the father of her kids, Vanessa has since suffered wild attacks from netizens who have stood against the idea.

These individuals have emphasized that Vanessa somewhat triggered Funny Face's mental meltdown and that going back to him, could re-activate that particular state, now that the comedian is healing.

However, after absorbing all the attacks and trolls on social media, Vanessa who seems fed up has recorded a live Instagram video to speak her mind.

Among other issues, Vanessa labelled as unwise and ignorant, individuals who have kicked against her idea of uniting with Funny Face, adding that they share a strong connection nobody can break.

She said the fact that she has three solid kids with Funny Face means that there is more to their relationship than people know.

"I am not a hypocrite, at the end of the day, Nana Yaw did not state anywhere that I did him harm. I am not stupid; I am a mother. Most of you will not understand me. Between Nana Yaw and myself we had issues and people did not understand the interview I did. But let me tell you something. A man with whom I have three kids. Three solid kids! There is no right-thinking person who will condemn my decision to want to reconcile with him. There is a difference between a man you are dating and a man you have kids with. Not just any type of kids, a set of twins and a Tawiah, (a child after twins).
"If for anything, there is a connection. Be smart and don't be naïve. We still share a connection. Even if I have wronged him, he still loves his children, I love the children too and there's a connection. Your mentality is too naïve and childish. Listen to people and don't be ignorant," she stated.

What netizens said about Vanessa

Funny Face and Vanessa have since been topping Twitter trends with netizens insisting that the former should not accept the latter after abandoning the relationship, fleeing with the kids, and causing him so much pain.

What Vanessa said that triggered the attacks

Vanessa had disclosed her intentions to make amends with Funny Face if given an opportunity.

In an interview with Kwaku Manu monitored by GhanaWeb, she established that she has matured over the period and that, she wouldn't hesitate to embrace the idea of re-uniting him with the kids and herself.
"If Funny Face would want the kids and me to come home at least for a week or two, why not? It gets to a point in life where you have to mature. We have done a lot of things and been through a lot. We even have kids, three of them. So, spending a week or two with him won't make any difference. It's not like I intend to hurt him or he might hurt me. He would've hurt me long ago if really, he wanted to," she told Kwaku Manu.





EB/FNOQ