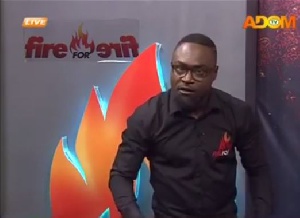 TV and Radio personality, Patrick Osei Agyemang known popularly as Country Man Songo has warned individuals criticizing Ebony for her sense of fashion to stay away from the 'hustle' hitmaker.
Dancehall artiste, Ebony Reigns has over the weeks been criticized for showing too much flesh to the public.

A video that was circulated on social media exposed the s*x organ of the artiste and got Ghanaians talking ill about the actress.
But Country Man Songo believes it's her choice and that people should rather support her rather than pull her down in what she is doing. He indicated that any individual who intends to criticize his baby girl in the future will face his wrath indicating that he will turn his fire on the fellow.

Meanwhile Ebony has disclosed that regardless of the criticism, she does not intend going back on her choice of dresses.