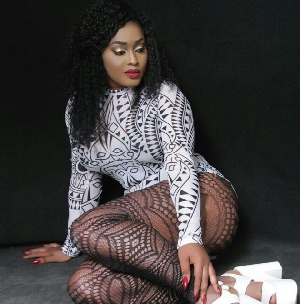 Enchanting actress and TV personality, Abena Ghana has said members of the public must desist from passing judgment on the head of Moesha Boduong over her comments on CNN which has set the whole country talking.
According to Abena Ghana, Moesha was wrong to generalize her statement as she was supposed to have spoken for herself only.

In an exclusive interview with MyNewsGh.com, she saidy "For me, I don't see anything wrong just that she was not supposed to generalize it like all Ghanaian woman. If not, that's her will", Abena Ghana said.

Asked if there is any truth to Moesha's statement, she replied "I can't say it's true because that's individual difference, but it's her life and opinion", she added.

The Abugyen host on Taabea TV said the hypocrisy of some of those criticizing Moesha was not lost on her, revealing that there are many out there criticizing Moesha but living her life secretly.

She indicated that aside Moesha's generalization, "She owes no one, and it's her life… You don't criticise when you do more that her. That's Ghanaians. Someone will criticize her but is also dating married men".
Actress and Instagram model Moesha Boduong has rendered an unqualified apology to Ghanaians for her comments on CNN's series 'Sex and Love Around the world'.

The self-acclaimed celebrity, told CNN's Christiane Amanpour that Ghana's economy is so bad to the extent that women are compelled to have sexual affairs with men just to survive.

"In Ghana, our economy is in such a way that you just need someone to take care of you.

"You can't make enough money as a woman here because even if you want to get an apartment, in Ghana you pay two years in advance and I just started working, where will I get money to pay for an apartment for two years," she told Amanpour in an interview.