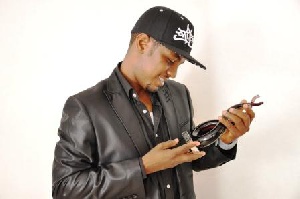 Mon, 12 Mar 2012 Source: --
Ghana is experiencing a fast moving music industry though numerous industry issues have to be addressed for a collective growth. Rate for international sales and involvements was about 30% in 2011 due to the introduction of "azonto" which happens to identity Ghana on the global music map. Artistes that took advantage of the "azonto" craze therefore had numerous airplays around the world due to the uniqueness nature. Some of the few artistes that really pushed themselves into the market again due to the "azonto" craze includes Guru,Buk Bak, Keche, Gasmilla, Castro, Stay Jay and more. Sarkodie also had an opportunity for a stunning comeback after years of unnecessary criticism from various individuals including the media.
Under the 2011 music year under review, the only non-azonto song that had most airplay was Dr Cryme's "kill me shy". That song was a fusion of highlife and hiplife and subsequently introduced the new genre called Twipop. The song was written and recorded three years ago by Darlington Agyekum (Dr Cryme) but was commercially released in June 2011 and became Ghana's number 1 hit song for the second and third quarter. E-Jam Records went further to release his "finally finally" album in November 2011 with hits songs "fre Me", Kill Me Shy","command",More fans", Mene woa" and more. D Cryme grew up from the Agyekum family that is known in Tema as a live band power house.
A statement released by the CEO of E-Jam Records , James Korsah-Brown who is currently in Holland working on various shows for his artistes Dr Cryme and Chemphe indicated that Mark Okraku Mantey has always been making false statements about Dr Cryme. He indicated that Mark should learn from his peers like Bola Ray and Kwasi Sefa Kayi who are always in the limelight promoting and encouraging the youth. Mark on the other hand takes delight is insulting and making false statements like "congratulations contestant, even Dr Cryme cannot perform "kill Me Shy" live. Korsah recommended that though Mark lives on TV3 mentor, he should be taken out of the judges and given enough education about relationship management and corporate strategies.
Source: --