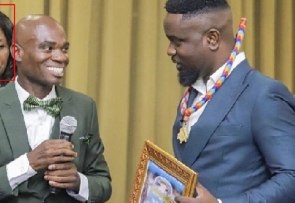 The organizer of the Global Blueprint Excellence Awards, Kwame Owusu Fordjour, popularly identified as Dr UN, has once again chided Sarkodie on social media.
Earlier , in 2020, social media went wild after the likes of Sarkodie, D Black, Berla Mundi, members of the academia and some politicians fell for his alleged fake UN award scam.

Sarkodie, who at that time shared his thoughts on the development in an interview with Pure FM, said anyone could have found himself in the same situation.

He also narrated how his manager alerted him about an email from Dr. UN concerning the awards and how the caliber of people at the event gave him an impression that the awards were genuine.

But Dr. UN who appears unperturbed about what critics including the award recipients think, have since stormed social media with comments that continue to defend the credibility of his awards scheme.

In one of Dr UN's latest comments on January 23, 2023, he has established that anytime Sarkodie brings up issues relating his award scheme, the rapper should be asked why he chose to participate in it.
He made the statement in Twi language which read, "Wɔ Kɔɔ Hɔ Kɔ Yɜ Deɜn (WKHKYD)," which translates to "What Did You Go To Do There?".

"Anytime my friend Sarkodie brings up my awards, ask him WKHKYD?" Dr. UN tweeted on January 22, 2023.

Read the post below:


Anytime my friend @sarkodie brings up my awards, ask him WKHKYD? ???? pic.twitter.com/Xn0c5GkYJt

— Dr UN Fordjour ???? (@__DrUN) January 22, 2023
ADA/EB