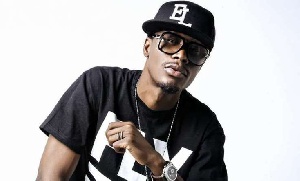 E.L has toppled the music industry with an interesting banger dubbed 'WOSA' featuring Joey B in the latest hit single.
The new single, he cited, intends to amuse music enthusiasts and entertain the Ghanaian showbiz circles.

In an interview with ghanahints, EL disclosed that the new single, WOSA is produced by VO nation with a thorough rhythmical and technical outputs to specially suit all entertainment functions.

E.L commented that this single adds up to his crazy club bangers and Afrobeats sounds. The song, he explained, talks about deceitful manners of some partners in relationships. WOSA, he literally explained, means 'I leave it to the fan's ".

The multiple-award winning international rapper lyrically used "Setewa" in the new banger to portray deceit due to failed promises by trusted partners.

He used "where the boy wey he lie you say he go buy you Range Rover?" to connote the deceitfulness talked about in the music lines.
WOSA, he again explained can be termed as a didactic banger which preaches the virtue of hardworking and self reliance to individuals.

The pulse racing performer musician reiterated that one must be able to be consistent in hard work and think outside the box to enable one defy all odds in order to chalk success.

He assured his cherished fans and all music enthusiasts to expect more melodious and interesting tunes from him this year.

E.L admonished Ghanaian youth to continue working hard and contribute to the development of the nation.

He admonished all fans to download the new hit banger on all music downloading portals.