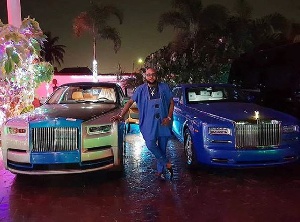 Musician and businessman, E-Money has once again acquired 2019 Rolls Royce Phantom, this time, for himself.
Few days ago, E-Money presented same to his wife Juliet Okonkwo, as a Christmas gift and also to show appreciation for her unflinching support.

"Please help me pray for this lady. She has been with me through thick and thin. She has never stopped praying for me… My Love you deserve all the good things of life. Enjoy your Christmas gift. Congratulations My Tomato Jos," the caption of his post read.

This was exactly three weeks after buying 2019 Mercedes-Benz G-wagon worth N71 million for himself.

Being a lover of luxurious vehicles, E-Money has added a brand new 2019 Rolls Royce Phantom to his fleet of cars.
In a picture he shared on social media, E-Money who is also into oil and gas, lined up the two 2019 Rolls Royce Phantom cars and stood in-between.

What is more interesting is the caption he gave while announcing the news.

"What's good for the Goose is good for the Gander" he stated.