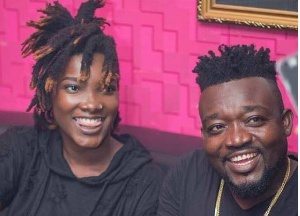 CEO of Ruff Town Records and former manager of late dancehall artiste Ebony, Ricky Nana Agyemang (bullet) has hinted on plans by his management to launch a foundation in the memory of their late songstress Ebony who passed away in gory accident in no time.
According to Bullet, the purpose of the foundation is to educate drivers on the need for road safety and also to support accident victims.

Explaining further he said;

"We want to do a concert to honour Ebony Reigns and we have a foundation we are launching. The foundation is for accident victims. You know she died in a very serious accident so what we are doing is to raise funds through the concert to support accident victims". He explained
Ebony died on February 8, 2018 in a gory accident on the Sunyani-Kumasi highway together with a friend Franklina Maame Yaa Tebua Nkansah alias Franky Kuri and a soldier, Lance Corporal Atsu Vondee.

Franklina Maame Yaa Tebua Nkansah was buried on March 3, 2018 after a burial service at the Prince of Peace Catholic Church at Kwashieman while Atsu Vondee would be buried on March, 23, 2018 at Adidome Mafi in the Volta Region.