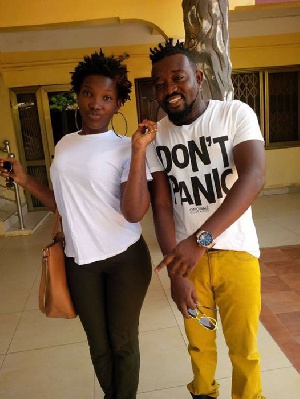 Ruff Town Records and Midas Touch CEO, Ricky Osei Agyeman, popularly known as Bullet has broken his silence over recent comments by Nana Poku Kwarteng, father of the late Ebony Reigns.
Mr. Kwarteng granted interviews recently after his late daughter, Ebony was crowned the artiste of the year at the 19th edition of the Vodafone Ghana Music Awards held at the Accra International Conference Center.

He was reported to have said most of the songs were written by her own daughter and not his manager, Bullet as it has been communicated. Ebony's father in one of the interviews he granted to the media said his daughter was verbally abused on several occasions by her manager, Bullet of Rufftown Records.

He further added that Bullet was too quick to announce her late daughter's replacement.

However, the former manager of the late talented dancehall artiste, posted a subtle reply to Ebony's father on his Facebook timeline.

Bullet stated that he is confident the late dancehall musician appreciates what he did for her though many didn't see her value.
"I believe strongly you appreciate whatever i did for you in life and in death, cos when the whole world didn't see your value I saw the star in you, a diamond and fearless queen.ebony reigns forever!" Bullet wrote of Facebook



Ebony died after she was involved in a gory accident on the Kumasi–Sunyani road on February 8, 2018 when she was returning to Accra from Sunyani.

Her friend, Franky Kuri, and a Military Man, Atsu Vondee, who is said to be her bodyguard on board a Jeep from Sunyani also died in the head-on collision with a VIP bus heading towards Sunyani from Kumasi.

Her funeral service was held at the forecourt of the State House. She was later buried at the Osu cemetery on Saturday, March 24, 2018.