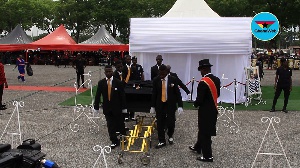 A maternal uncle of Ebony Reigns, Mr. Oppong, has disclosed that before going to the family house to see her mother, Ebony called ahead to make a request.
According to him, Ebony phoned her mother to ask her to sing a particular gospel song for her.

The uncle made this revelation in an interview monitored by YEN.com.gh on UTV at the ongoing funeral ceremony of Ebony Reigns at the forecourt of the State House in Accra.

He narrated that on her way to the family house in the Brong Ahafo Region, Ebony called her mother, Madam Beatrice Oppong, to tell her about a gospel song that had been on her heart for sometime.

According to him, the song is about "Otwediapong Nyankopon (Sovereign Lord) and his wonderful deeds."

Ebony, the uncle revealed, had told her mother that that particular song kept coming to her mind and heart, but she did not know how to sing the full song; therefore, her mother should sing for her when they meet.

However, Ebony and her friends, according to the uncle, did not spend much time at the family house, therefore her mother could simply not sing for her.
Ebony had earlier requested that the local dish "Ampesi", to be prepared for her and her bodyguard, Lance Corporal Vondee Francis Atsu, and personal assistant, Franky Kuri.

But she changed the menu, asking her mother to prepare jollof rice instead.

However, for some strange reasons, Ebony and her entourage did not eat the food prepared for them.

The uncle further revealed that the family received the news of Ebony's sad demise with utter shock, adding that they are yet to recover from that shock, and wish it never happened.

Meanwhile, the funeral ceremony of Ebony Reigns, born Priscilla Opoku-Kwarteng is underway at the forecourt of the State House.

She will be buried at the Osu Cemetery. It's a sad day, and many Ghanaians are crying uncontrollably.