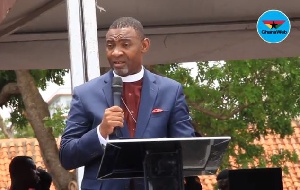 Rev. Dr Lawrence Tetteh, founder of UK-based World Miracle Outreach who led the late musician Ebony Reigns to Christ days before her death, has revealed that he was utterly stunned when he saw the black coffin that carried the late artiste's remains at her funeral ceremony last Saturday.
According to the renowned preacher, he had paid for a different coffin that had been chosen by Ebony's parent days before her funeral, only to see the all black casket, a type he says he's never seen in his life before.

Tongues were set wagging over the weekend on social media as people read all sorts of meanings into the 'rare' black glass casket which had the letter S designed on top of it.

A section of the public speculated that the type of coffin Ebony's father chose confirmed his alleged involvement in occultism. Others also slammed Rev. Dr Lawrence Tetteh for looking on for such a 'strange' coffin to be used in carrying the remains of her daughter in Christ.

But speaking on Adom TV Monday, the International Evangelist stated that he couldn't have determined which coffin to be bought because he wasn't a family member and that he offered to pay for it out of the love he had for Ebony.

He nonetheless disclosed that he wasn't the least happy with the black casket adding that the latter's father informed him only hours to the funeral ceremony that he'd chosen a different coffin from what he (Rev Tetteh) had earlier seen and paid for.


"I had gone with Bishop Quaye and a woman by name Julie and Ebony's parents to buy the coffin. I told Ebony's parents to choose the coffin they wanted for me to pay because she was their child and I couldn't decide for them. What I paid for was not what was used in burying her. On the day of the funeral, Ebony's father called and told me that, on the evening they were going for her body, he saw another coffin which looked nice and so he settled on that one rather and that it was the same price as the one he'd earlier picked. I didn't see the coffin until the funeral event as I was not around when they went for the body. I must be honest with you, I wasn't happy when I saw that coffin.

He added: "I'm over 50 years but I've never seen a black coffin in my life. What I'm saying is that, I and my team saw that black coffin only when we got to the funeral grounds. So I asked Ebony's father about it and he said he found the black one nicer than what I'd seen earlier and that I told him to make a choice and that's exactly what he's done. He's the father and so he had the right to make certain decisions. Personally, I don't judge people because nobody knows the secret places of our hearts."

The preacher and the late musician met at the Hungarian Embassy in Accra two days before she died.

Ebony died after she was involved in a gory accident on the Kumasi–Sunyani road on February 8, 2018 when she was returning to Accra from Sunyani.
Her friend, Franky Kuri, and a Military Man, Atsu Vondee, who is said to be her bodyguard on board a Jeep from Sunyani also died in the head-on collision with a VIP bus heading towards Sunyani from Kumasi.