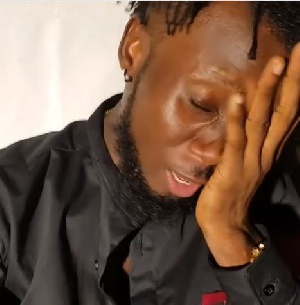 O-Gee is captured looking all gloomy which proves that he is the least of all unhappy men in the world today. He was speaking from the Tribute Concert which was held in her memory last night on March 23, 2018, in honour of Ebony Reigns.
He was speaking the Twi language translated as "I am weak, but what more can I do?" O-Gee spoke about how he the Tribute Concert was going to be successful, and how he expected people to be there, as well as at the funeral.

Also a musician, O-Gee, has been rumoured to be the boyfriend of the late dancehall artiste. Though Ebony never made her relationship public, videos and photos that have popped up after her death indicate that she was dating O-Gee. He himself has 'confessed' on an interview on GHONE monitored by YEN.com.gh that "Ebony was my best and I don't think I can find someone like her."

Meanwhile the funeral ceremony of the late Ebony Reigns, is ongoing at the forecourt of the State House in Accra. She will be buried at the Osu Cemetery.