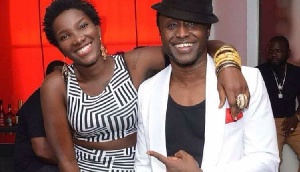 Legendary Ghanaian Rapper, Reggie Rockstone has revealed that not even the death of his father humbled him like that of the late Ebony Reigns who died in a tragic road accident last year on the Sunyani-Kumasi highway.
The Hiplife Grandpapa disclosed that the singer who was soaring higher and higher by the day, was a family member known to his wife and visited his office each time she was less busy.

Speaking on Hammer Time on Pure Morning Drive (Pure 95.7MHz in Kumasi) with Hammer, the grandpapa noted that he was the first person to hand a microphone to Ebony Reigns as the '90's bad gyal' described him as her role model.

"Even my wife saw Ebony as a family. Everyone that knows me or her can verify that almost on any day Ebony was free, she was at my place (Rockstone's office). We were very close. I have grown and seen many deaths including that of my dad's but Ebony's death humbled me. I couldn't believe it and it's one of my painful experience in life." He recounted.
Reggie Rockstone further noted that, Ebony always came to him for advice anytime she felt down in the music industry and he will forever remember her for her humble character.

"Hammer you know I wasn't raised spiritual so I'm not saying this from a spiritual point of view but from my years of experience in life and the music industry. Fame can make you play around but you need to wise up at a point and be spiritually minded. This is a fact, believe me or not." He said.