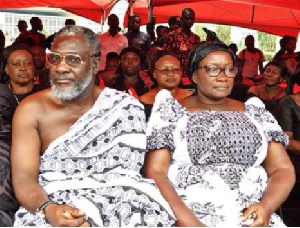 The family of late Ghanaian music star, Ebony Reigns, have expressed their profound gratitude to the entire Ghanaian society for mourning with them throughout the death, funeral and final rites for their beloved kindred.
Speaking on behalf of the bereaved family on Suncity Radio with Melvina Frimpong Manso, over the weekend, the late music icon's father, Nana Opoku Kwarteng said they were overwhelmed by the massive support and encouragement by all manner of people in the country.

"Our politicians, technocrats, the clergy, musicians, footballers, the media, students and even children of Ghana, as well as the general public, demonstrated their love for the person and works of Priscilla Nana Hemaa Opoku Kwarteng, even in her demise, we are very thankful and grateful to all," he said.

Nana Kwarteng also thanked the management and staff of Suncity Radio, for giving them the platform to reach out to larger Ghanaian populace through their medium, to let them know how much they appreciated the nation, at the loss of such a wonderful, gifted and lovely member of the fold-Ebony Reigns. "Good richly bless you all!" he stated.