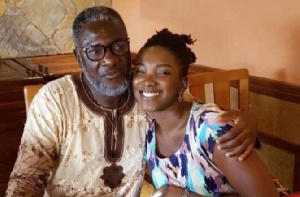 Father of the late dancehall artist Ebony Reigns, Nana Opoku Kwarteng, has appealed to local pastors to end the speculations regarding his daughter's death in a recent interview on local television.
According to Nana Opoku Kwarteng, Ebony Reigns - born Priscilla Opoku Kwarteng - was on a mission in life. He stated that once his daughter's mission had been achieved she had to "go home" and account for it.

Speaking in an interview on Kofi TV, Nana Opoku Kwarteng also touched on the continuous stream of speculation from pastors concerning the reason for Ebony's death.

He urged pastors to stop their speculations, referring to such speculations as "irritating."

"Like I said earlier, mission accomplished. When you are done with your calling, you must go back and give account. She has paid her dues and I wouldn't want people to attach this superstition to it. I will appreciate if they put an end to it. It's so irritating. She accomplished her mission," he said.
Ebony's father went on to reveal that since his daughter's tragic demise, he is yet to set his eyes on Ebony's mortal remains. Nana Opoku Kwarteng went on to say that the after he sees her remains, the body will be transported to Accra so the funeral can take place.

Ebony's mourning father stated that his daughter did what she did to win the hearts of Ghanaians. He went on to say that the fact that Ghanaians talk isn't necessarily bad, and that his daughter was not a bad person.

"…That is Ghana for you. She was doing what she was supposed to do to win the heart of the masses and that was the brand. That was what she chose. I think Ghanaians talk but that's ok. Ohemaa was not bad. Her dressing and everything was on point."