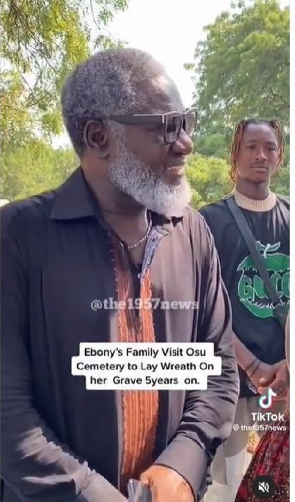 February 8, 2023, is exactly 5 years since Ebony Reigns, a promising Afro-dancehall artist, died unexpectedly and left music lovers both in Ghana and abroad teary.
Ebony Reigns died in an accident while returning from the Bono Region after visiting some members of her family.

She died alongside her best friend and a military officer named Vondee.

Many Ghanaians are still reeling from the untimely death of the budding musician, who was on the verge of becoming the face of Ghanaian music at the time.

In remembrance of the late diva, the deceased family has held a 5-year anniversary by visiting her tomb at the Osu cemetery.
In a viral video, Ebony's father Starboy Kwarteng is seen weeping at her grave.

The family man couldn't make his speech without breaking down in tears.