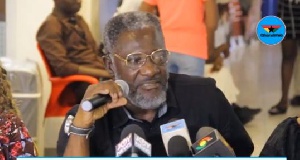 Nana Opoku Kwarteng, the father of the late dancehall musician, Ebony, has called on Ghanaians to purchase the official cloths released for her funeral.
At a ceremony held at the West Hills Mall on Saturday, March 17, 2018 to officially outdoor the cloth, Nana Kwarteng also stated that he wished the purpose of the gathering was to celebrate a living daughter.

With his eyes filled with tears, he called on Ghanaians to patronize the material, and use it on all occasions, so that the memory of his daughter lives on.

"It's unfortunate we are here today not for anything, to launch funeral clothes of my daughter, the queen, Ebony. How sad it is", he said.

Ricky Nana Agyeman, also known as Bullet, who is the Chief Executive Officer (CEO) of Rufftown Records, added that the introduction of the cloth was per the wishes of his late artiste.

"We are doing this for Ebony Reigns. When she was alive, she was always with me. She told me most of the things she wanted to do. She wanted to have 'Ntoma Collections' because all the other musicians had casual wears. So it's like a dream come through," he explained.
The clothes are named after her songs. 'Maame Hwe' comes in two types while 'Aseda' is black and white.

The final funeral rites and burial service for the late Ebony will be held on March 24 at the forecourt of the State House in Accra.