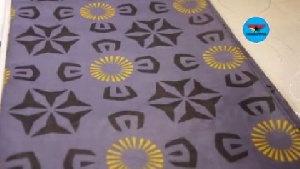 Information gathered by Kasapafmonline.com indicates that there's a shortage of funeral cloth for the late Ebony Reigns less than 24 hours to her final funeral rites.
This website's visit to popular cloth market centers in Accra on Friday found out that there was complete scarcity.

Madam Caroline Ansah, who sells cloth at Makola Market in Accra, told Kasapafmonline.com that there was high demand for Ebony's cloths a day after they were unveiled.

According to her, because Ebony's burial service is tomorrow, March 24, many well wishers rushed in to purchase the cloths on Wednesday and Thursday hence resulting in the shortage early Friday morning.

Sellers of the cloth in Accra were pleased about sales of the textiles after family and management of late Ebony Reigns launched two cloths, 'Maame Hwe' and 'Aseda' for the funeral and thanksgiving services of the deceased dancehall artiste which is slated for March 24 and 25 respectively.

Ghanaians are patronizing the two clothes the family and management announced as official clothes for the funeral though they keep complaining about the cost of the two materials.
The cloth was made available to all GTP fabric distributors nationwide for sale to the general public at cost of GHc15.00 per yard.

The other designs are set to be launched later this year according to manufacturers.

The burial will be held on Saturday, March 23, 2018. Prior to that, the funeral service will be held at the forecourt of the State House in Accra on the same day from 5am.

The funeral service will be officiated by Dr. Lawrence Tetteh, leader of UK-based World Miracle Outreach.

Ebony died after she was involved in a gory accident on the Kumasi–Sunyani road on February 8, 2018 when she was returning to Accra from Sunyani.
Her friend, Franky Kuri, and a Military Man, Atsu Vondee, who is said to be her bodyguard on board a Jeep from Sunyani also died in the head-on collision with a VIP bus heading towards Sunyani from Kumasi.