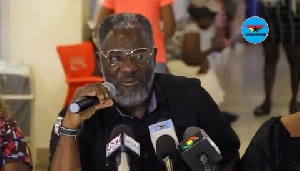 Father of Ebony Reigns has stated that, GTP produced the funeral cloth (Maame Hwe) for the burial of his late daughter to honour and sustain her legacy.
Mr. Opoku Kwarteng made the profound but rather said statement at the launch of the cloth on Saturday 17th March 2018 at the Westhills Mall Accra during a press briefing.

He urged the general public and fans of Ebony Reigns to patronize the clothe for the funeral of his late daughter. Mr. Kwarteng also mentioned that cloth can be used for other purposes as it comes in different varieties.

The clothecomes in three different types, there is a red and black which is called "Maame Hwe" purposely for funerals and burial services, there is another shade of "Maame Hwe" which looks more like grey and sown for every occasion be it a casual or corporate event and finally "Aseda", a white clothe which goes perfectly with every occasion be it an anniversary or an naming ceremony.

Bullet, CEO of Rufftown Music, Ebony's former record label revealed that the symbols in the clothe are related to the late singer's career which is why the clothes were named after her songs in order for her memory to live on.
A representative from Fresco Enterprise, sole distributor of "Maame Hwe" and "Aseda" cautioned buyer to look out for seals on the the clothes before buying, this is to avoid piracy and ensure value for money.