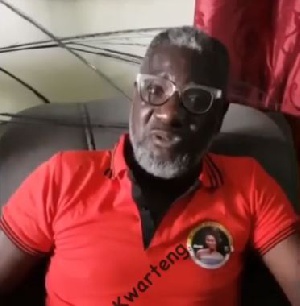 Starboy Kwarteng has got social media talking with his recent comment on the spirit of his late daughter Ebony.
In a report sighted by YEN.com.gh, Starboy Kwarteng known in real life as Mr. Opoku Kwarteng has made some revelations about Ebony.

"Even while she was alive, there were times I dare not refuse her directives that is how come I refer to her as a queen," he said. "You can represent her but never replace her. In my interactions with her, she has asked I get someone to represent her and that is why I have settled on Kim Maureen," he added.

He revealed that all the decisions he take nowadays are influenced by the ghost of Ebony who he always refer to as Nana Hemaa.

Starboy Kwarteng claimed that he dare not go against Ebony's wish fearing what might happen if he does.

The new record label owner further revealed that it was his daughter's ghost that told him to set up a record label.
He claimed that the record label was established to continue the legacy of Ebony who was adjudged 2017 VGMA Artiste of the Year.

Meanwhile, Kim Maureen has already released a single titled 'Bad Gyal Army' which features the late musician Ebony.

It is evident that the song was already composed by Ebony before her demise through an accident on the Kumasi-Sunyani road.

After her demise, Starboy Kwarteng was said to have taken all recorded songs of Ebony from her manager Bullet.