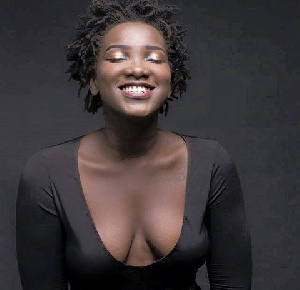 It's been exactly a week since news of her shocking demise hit the airwaves. Born on 16th February 1997, Ebony Reigns born Priscilla Opoku-Kwarteng met her unfortunate death just 7 days to her 21st birthday.
Several Ghanaians have taken to social media platforms to wish her well and amongst them is Ghanaian gospel musician Sonnie Badu who has been quite supportive of the rather controversial musician.

In his post on insttagram, the award winning gospel musician extoled the late singer for the impact she created within just 2 years of her reign in the music industry. Her 'killers' however he said, will have the extra burden of carrying all her flaws, and iniquities since the Bible indicates that murderers will bear consequences of taking on the sins and accounting for the blood of the murdered person. Sonnie believes Ebony will 'have a free ticket to heaven' on the basis of this scripture.

For him, though it is a big blow to the Ghanaian industry, her legacy will live on after her. The 'Baba' hitmaker expressed joy about the fact that he had the opportunity to support her when she was alive.

His post read: "Happy birthday to you #Ebony. Your life was short lived but you made a real impact. I saw a video somewhere and even kids were singing your song on domestic violence with so much passion and it really got me teary.
I'm glad that some of us stood for you; tho a lot of them didn't understand you. May your soul Rest In Peace, Perfect Peace. Interestingly, what people don't know is that, whoever was behind this has taken all your iniquities and given you a free ticket to heaven because your blood will be demanded from them. Rest well in the bosom of the Lord, your song Maame hw3 makes sense now. You left Mums house and this is what happened ... #RIPQUEENEBONY #DrBadu"

Ebony died on 8th February along with two others when the Jeep vehicle they were travelling on collided with a VIP bus at Mankraso in the Brong Ahafo Region.

She was signed to Ruff Town Records and Midas Touch Inc.