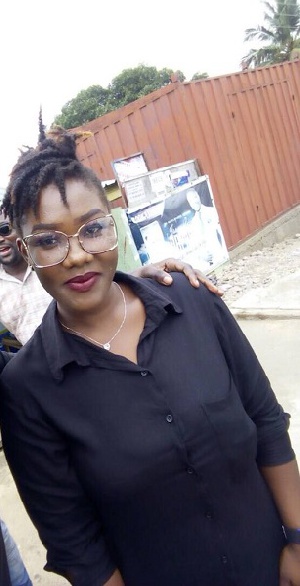 A lady believed to be the exact doppelganger of deceased musician Ebony Reigns was spotted at her funeral grounds.
Sympathizers of the musician couldn't help but chase her around the funeral grounds claiming she's Ebony.

It obvious from the pictures below that the lady has some form of resemblance to the late Ebony, but it's awkward to claim that she is indeed her.

Meanwhile, Manager of deceased Dancehall artiste, Ebony Reigns has eulogized the singer, describing her as a staunch Christian.

According to Ricky "Bullet" Nana Agyeman, contrary to popular belief, Ebony was a committed Christian who occasionally had prayer sessions with prophets and Christian leaders.

"Contrary to the reports widely circulated and the unfounded perception that Ebony was untrained and from a nonreligious background, Ebony was the exact opposite. Ebony was a Christian and indeed worshiped anytime she had the opportunity at the Golden Centre church in Madina.

"She was prayerful and had prayer sessions with a number of pastors, prophets and Christian leaders. Ebony was kind, respectful and a philanthropist. She occasionally went to orphanages to donate."
Ebony died on February 8, 2018 along with two others in a car accident while returning from Sunyani in the Brong Ahafo region, where she had gone to visit her mother.