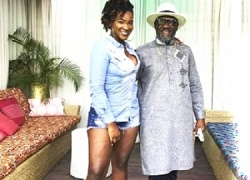 Nana Opoku Kwarteng, father of the late Dancehall musician Ebony Reigns, has accused his daughter's management team of negligence leading to her death in the gory accident that claimed her life.
According to him, Ebony management team's failure to monitor her movement was a clear dereliction of duty as they should have known her location and itinerary at every point in time and should have stopped her from embarking on that journey.

Ebony died after she was involved in an accident on the Kumasi–Sunyani road on February 8, 2018 around 11pm when she was returning to Accra from Sunyani, where she'd gone to see her mother who had returned from abroad.

Her friend, Franky Kuri, and a Military Man, Atsu Vondee, who is said to be her bodyguard on board a Jeep from Sunyani also died in the head-on collision with a VIP bus heading towards Sunyani from Kumasi.

Ebony reportedly traveled without the consent of her management team.

But her father, Nana Opoku Kwarteng in an interview on Peace FM said though he's grateful to Ebony's management for unearthing her talent and making her a star, they woefully failed in doing a good job, adding that his daughter had no right to make that trip without permission from her management.

"Nana Hemaa (Ebony) traveled very late in the night when Bullet (her manager) was abroad, according to him. A good management team handling a 21 year old super star should have taken good care of her. Somebody should have been with her on that journey, somebody should have corrected her as she shouldn't have made that journey on her own. That is proper management, Ghanaians take things too easy. There's more to the word management, I'm not being ungrateful but management should not be only about the music aspect of the artiste.
"When you're managing someone, the person's movement and all that concerns her is your concern. You don't care the strength of that person, you take the decision for the person that's why you are the manager. You've taken her from nowhere and you made her a star, if you're her manager then your concern couldn't have been only the music aspect.

"As a father I did my bit, I expected management to do their part. The bit about my daughter embarking on that journey, means someone failed woefully in doing his job, she didn't have that right to say she was traveling to visit her mother without any management member knowing or accompanying her. Management should have arranged that journey and make sure she was safe."